Back on Track–Recharged and Ready to Go After the 2014 Wise Traditions Conference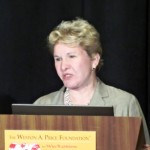 I just got back yesterday from the 2014 Wise Traditions Conference in Indianapolis, and I can't begin to describe how encouraged and recharged I am.
Do your co-workers treat you as if you're crazy because you want to eat healthy food?  Does your family pressure you to eat junk food by saying "one piece of cake won't kill you?" It can be very difficult to ignore the pressure and stick to your healthy diet. My husband completely supports my choice of the nourishing food I want to prepare and eat, but many, maybe most people are not so lucky.
One of the qualities I enjoy most about a WAPF conference is that I know I'm among friends, family, and, as my husband says, it's my tribe!  For the few days of the conference, we listen to talks; eat delicious, nutrient-dense meals; and meet new and old friends, I have the wonderful feeling of being completely accepted.  Almost everyone agrees with my health and nutrition principles.  I don't have to apologize for (or explain) my weird diet!  And I never have to make excuses for refusing foods that are unhealthy!  In fact, those kinds of junk foods aren't served at conference meals! They serve fermented veggies, pastured meats, sourdough bread, fresh veggies and fruits, and lots and lots of butter!
You know it's a great conference when you can buy a cup of bone broth or kombucha from several vendors!  I didn't miss a day having both!
Everyone at WAPF conferences understands!  Wow, what a comfort!  What a joy!
And, of course, I got my batteries recharged.  I'm now ready to get back to writing the stories I want to post and reach more people with the good news that many health problems can be overcome, or at least significantly improved, by adopting sensible, traditional dietary principles.
I learned so much that I will probably be writing for several weeks about the topics that I found so fascinating.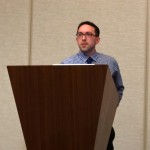 Some of the subjects I will write about are why it is so important to Go Organic, the need for sulfur in the diet, the prevalent magnesium deficiency, why we need to do our own health research, do we need to drink a gallon or two of water a day, the importance of fiber to health, the glyphosate plague, unnatural GMOs, vegetarianism, sustainable farming, what the Maasai really ate, and much, more.
Keep watching for new posts.  Did you go to the conference?  What did you like (or not) about it?
Posts about the 2014 Wise Traditions Conference:
Why Women Find It Harder to Lose Weight Than Men!
You might also want to read my post about how I came to join the WAPF, start a chapter, and begin my blog, Real Food Houston, Why I do what I do!