Sugar is Destroying Our Health – Viewing of Sweet Suicide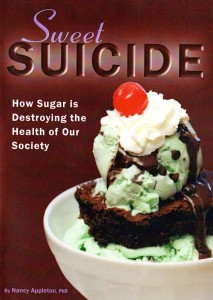 The documentary Sweet Suicide will be presented on December 12th from 2:30 to 4:30 pm at the Clear Lake City-County Freeman Branch Library in the Children's Activity Room.
It's so tempting to eat too much pie, candy, and other sweet foods during the holiday season!  If you are concerned about the effects of excess sugar on your health, come learn about the benefits of reducing the sugar in your diet!
Join us to watch this documentary by Nancy Appleton PhD.  There will be a question and answer session after the film.
Sweet Suicide . . .
Uncovers the serious health issues caused by sugar consumption.
Exposes medical groups endorsed by the government that continue to recommend sugar in their recipes for patients with heart disease, cancer, and diabetes.
Follows the remarkable story of "K.C.," a sugarholic, weighing 360 pounds, who reached her normal weight and regained her health.
Reveals the emotional and physical well-being one can experience when eliminating sugar from the diet.
Real Food Houston is a co-sponsor of this presentation along with the Houston-Galveston Chapter of the Weston A. Price Foundation.