On the Real Food News Front – 8/8/14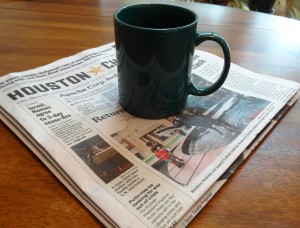 I haven't had time to publish any new posts this week, but I didn't want to skip writing about the latest news.  Breakfast today was a cup of bone broth (by now, you should not be surprised!) and a banana cocoa smoothie. Today's smoothie was made with raw milk, frozen bananas, raw cacao, and egg yolks from local pastured hens.
We have another meeting of Houston Real Food Nutrition to announce!  I am so excited that interest in nutrition to improve health is growing so much here in Texas that we have had to add a second session about the topic Dr. Price's research and principles of a nourishing traditional diet.
To help our members who don't live in Houston, Amy Robison and I are going to Wharton to do an encore presentation on August 24th.  I've been told that people are coming to Wharton from Yoakum and San Antonio to hear that one.  Medina Farm is hosting the Wharton meeting and is offering some wonderful prizes for attendees–a dozen yard eggs, a quart of raw goat milk, and maybe some fresh feta cheese!  Medina Farm has created a Facebook event page for the meeting.
The first meeting about traditional diets is on August 16th. I hope you can come to one of them!
Also don't forget on Sunday, August 10th, Grant Wilson of Gramen Farm will talk about raw milk and local organic produce at the grand opening of the MainStreet American farmers market.
You can check out and sign up for any future meetings at Houston Real Food Nutrition.
Another reminder–today, August 8th, is the last day to donate to the Farm-to-Consumer Legal Defense Fund (FTCLDF) and get a Donor Gift.
I am a member of the FTCLDF and urge all of you who care about healthy food, food rights, or the defense of our small family farms to join and also to donate to the fundraiser if you can.
For a $100 donation, you can choose one of these super gifts:
Any of these are great gifts!  Notice that Nourishing Broth (which I want for sure) is brand new, to be published in September.
Here's some of what the FTCLDF does for us:
When you donate to the Farm-to-Consumer
 Legal Defense Fund, you will:
Protect your food rights because FTCLDF defends access to nutrient-dense foods from pasture-based farms.
Shoulder the heavy burden of expensive court cases for the few farmer members, like Christian Zook, who are unfortunate enough to get into legal battles.
Keep FTCLDF membership costs low and affordable–membership fees that haven't budged since FTCLDF's formation in 2007.
Protect private buying clubs
Protect backyard gardening rights
But to get one of those great donor gifts, you need to donate today!
Houston Food News! Check out the garden for growing food at the new Houston restaurant Coltivare (by the owners of Revival Market)!  You can also read about other city-supported gardens in food deserts.  [source]
You can get dinner and a movie this year for Houston Restaurant Weeks at the Alamo Drafthouse (probably not much Real Food though).  A $5 donation will go to the Houston Food Bank.
In other Houston news (and no, it's not related to food!) you might want to watch the shuttle Independence being lifted atop the Boeing 747 carrier aircraft August 14th at 8 am. The combined height of both aircraft will be about that of an eight-story building. The public is invited to attend, but if you can't be there, you can watch The Rise of Independence live. I worked in the space program for many years and still find it exciting to know that we will be able to tour the inside of both the shuttle orbiter and the carrier when the exhibit is completed in 2015.
Now for other nutrition and health news . . .
I read a great article about climate change that I want to share with you.  For some time, I have been convinced that the only way we can heal our earth is to stop poisoning it.  Instead we need to nurture our soil, our animals, as well as ourselves. We have been treating living animals, plants, and people as inanimate objects for too long.   Read more about We Can Reverse Climate Change by the Way We Grow Food.
Another study is showing that epigenetic changes in one generation can be passed down to future generations.  A study of rats found that stress during pregnancy influenced the outcome of pregnancies in the grandchildren even when the parent had not been stressed.  Environment does matter, and environment includes what we eat, what we breathe, what we absorb through the skin, and the stresses we live with.  Have you read Pottenger's Cats?
An interesting article on GreenMedInfo tells about natural treatments for canker sores in the mouth.  I used to have those painful sores but rarely have them since I changed my diet and quit using toothpaste containing sodium laurel sulfate and sodium laureth sulfate, both of which irritate the mouth.  If you are still troubled with canker sores (and more women than men have them, for unknown reasons), there are treatments with fewer side effects, including honey and vitamin B12,  than the antiseptics, corticosteroids, or antibiotics commonly prescribed.  Although the article also recommends avoiding dairy, I still drink raw milk and eat cheese.
The number of farmers markets in the U.S. has increased 76% since 2008, [source] and the USDA has developed a database, USDA National Farmers Market Directory, to help you find one in your area.  To find farmers markets in the Houston area, go to the Farmers' Markets page on WAPF-Houston.org.
There's good and bad news about GMOs–good:  India has put GMO crop trials on hold, but bad: it looks like the USDA will approve new varieties of GMO soybeans and corn that are engineered to resist a combination of poisons, glyphosate and dicamba.  The new soybeans will allow even more poisons to be sprayed on our food crops.
If you are trying to stay away from GMOs by buying organic foods, the growing popularity of organic foods (and higher prices and profit margins) has attracted Big Food.  Pressure is being applied to the National Organic Standards Board (NOSB) to reduce restrictions and weakening the standards.  Will we lose the benefit of the NOSB?  [source]
For mental heath, you might want to garden more often.  There apparently is a microbe in the soil that influences serotonin production which will make us feel better.  [source]
More bad news about the side effects of statins:
According to a new study published in Clinical Endocrinology, women who use statins have a 43% increased risk of thyroid cancer.  Men have a 28% increased risk. [source]  The benefits for women for taking statins is very small, and they have not been found to prevent heart attack.  Read my post about women and statins, Warning! Women in danger of being overprescribed statins!
Another study found that taking statins increased the risk of developing type 2 diabetes by 57%, and the risk increased the longer the patient took statins.  [source]
If you still think you need to lower your cholesterol level, read about this study that cholesterol levels are significantly low in kidney failure patients than in controls.  Those who died from kidney failure had even lower cholesterol levels (all types) than those who survived.  [source]  We need cholesterol to be healthy!
Now here is a selection of delicious, nutritious recipes from other Real Food bloggers to help keep you healthy and happy!
Baking with the Ancient Grain Einkorn
Einkorn is an ancient wheat that is a rich source of the beta carotene lutein and the forms of vitamin E–tocotrienols and tocopherols. Since it can need special handling to produce superior baked foods, here are some excellent tips.  The article has Einkorn recipes for Cheesy Biscuits, Coconut Vanilla Cookies, and Beer Cheese Bread.
Reclaim your rust pitted cast iron
This is not exactly a recipe, but if you have cast iron skillets, griddles, or pans that have rusted, you can save them.  Check out this method, which seems fairly simple.  If you try it, let us know if it worked.  And there's another article on the potato cleaning tip.
No Bake Pumpkin Pie Cookies- No GMOs, Gluten-Free, Dairy-Free and No Refined Sugars
These pumpkin cookies require no cooking, are full of nutrients, and their sweetness comes from medjool dates.
Cauliflower Mac' and Cheese
This Mac and Cheese is gluten-free, grain-free, and easy to fix.
Refreshing Water Kefir (or Kombucha) Ice Cream Float
A substitute for soda and still delicious when used with Real Ice Cream