On the Real Food News Front — 08-1-14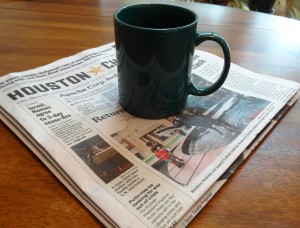 I know it's Friday, but this week I have been so busy with the activities of the Houston-Galveston chapter of the Weston A. Price Foundation that I am a little behind with the news.  For breakfast this morning while drinking my cup of bone broth and reading my local newspaper, I had a cherry smoothie made with local goat milk kefir, egg yolks from pastured chickens, organic cherries, and a little stevia. Delicious, nourishing, and probiotic too.
We have added some new events to our Meetup, Houston Real Food Nutrition.
The next meeting of our WAPF chapter will discuss the research of Weston A. Price and the Principles of a Nourishing Traditional Diet.  The photo at right shows the difference between the modern versus traditional facial structure. If you missed Sally Fallon Morrell's talk at the recent Houston Regional Wise Traditions Conference or just want to refresh your memory and ask some questions, come join us.  We will also have some giveaways during the meeting.  I hope you will join our Meetup group, Houston Real Food Nutrition.  It doesn't cost anything to join and you will be notified of all meetings and events.
Another event we've added to the schedule is the opening of the Farmers Market at MainStreet in Spring August 10th.  Grant Wilson of Gramen Farm will talk about the benefits of raw dairy and local organic produce.
The Farm and Ranch Freedom Alliance issued an alert that was so disturbing that I did some research into the arming of the USDA (yes, that is the Department of Agriculture with the guns!) and the recent raids on family farms.   Read about what's happening and what you can do . . .
Now for other nutrition and health news . . .
Houston Restaurant Weeks begins today and benefits the Houston Food Bank.  It's a worthwhile effort even though I wish our food bank provided truly healthy fresh food instead of so much dead and processed food in cans and packages.  Read my post about how one food bank found a way to provide fresh produce for its customers, Food Banks CAN Provide Healthy and Nutritious Food!
The Haven closed yesterday! Chef Randy Evans had operated the award-winning farm-to-table restaurant for five years. The location is being sold to the owner of The Union Kitchen.  We are sad to have to remove it from our Real Food Restaurants list.
Raw milk news:  While the U.S. government raids our raw milk dairies, much of Europe can buy their nutritious raw milk from vending machines, and soon the U.K will be able to as well.  Their Food Standards Agency (FSA) is expected to approve the measure soon.
GMO news:
Although the U.S. government and industry have welcomed GMOs with regulations prohibiting their ban, the European Union is moving toward more strict controls of GMOs.  An EU proposal would allow member states to ban or restrict GMOs within their borders.
In the U.S., we can avoid GMO foods by choosing organic and apparently more and more families are making that choice.
One of the reasons GMO foods are not good for us is that the poison (glyphosate/Roundup) sprayed on many GMO crops kills beneficial bacteria in the gut while leaving the pathogenic bacteria (e.g., salmonella and botulism) unaffected.
In apparent desperation, Food and biotech companies spent $9 million lobbying Congress on issues that mentioned GMO labeling in the first quarter of this year, almost the amount spent in all of last year. [emphasis added] [source]
News about poisons and toxins:
Here's the good news first:
The EPA has denied the emergency application of Texas farmers to use a toxic pesticide on 3 million acres of cotton. Allowing the spraying of propazine, which is highly water soluble, on so many acres of farm land would have greatly increased the risk of contamination of water supplies.
Also good, Federal wildlife refuges in the northwest will phase out the use of neonicotinoid pesticides that have been linked to the decline of pollinating bees and wild birds.
Now for the bad news:
A study at Skinner Lab , Washington State University, found that exposure to the pesticide methoxychlor in one generation led to "adult onset kidney disease, ovarian disease and obesity" in later generations even though exposure to the pesticide did not continue.  Methoxychlor was banned in the U.S. in 2003, but it is still used in other countries.
Pesticide residues have been found in almost 63% of bread samples in the UK. Most alarming is that the percentage was only 28% in 2001. Would there be less pesticide in our bread in the U.S.? I don't think so.
A new study from the University of California in Davis has strengthened the link between prenatal pesticide exposure and neurodevelopmental disorders such as autism. "Pregnant women who lived in close proximity to fields and farms where chemical pesticides were applied experienced a two-thirds increased risk of having a child with autism spectrum disorder or other developmental delay."  The pesticides studied include "organophosphates, pyrethroids and carbamates."
In environmental news:  A study has found that we need our grazing animals! Botanists at Trinity College in Dublin were surprised when a study found that allowing deer in forest ecosystems actually increased the biodiversity of the plant life.  It had been thought that removing the deer from the forests would help encourage plant survival.
News that can affect our health:
Now for a selection of delicious, nutritious recipes from other Real Food bloggers to help keep you healthy and happy!
Our Daily Bread: Whole-Grain, No-Knead Sourdough
Tips and hints to make nutritious sourdough bread with a minimum of effort. From the Nourished Kitchen
Vanilla Pudding Pops with Homemade Magic Shell
These pops are made with cream, milk, and egg yolks and are coated with a chocolate/coconut oil shell.  From Deliciously Organic
5 Nourishing Summertime Popsicles :: Great For Teething Babies, Busy Toddlers, & Kids of All Ages!
These summer pops are made with fruit, milk or coconut milk, gelatin, and egg yolks. Refreshing and nourishing!
Recipe: Grain Free Zucchini Walnut Brownie (GAPS, Paleo)
These GAPS and paleo brownies are made with almond flour and coconut flour.  The zucchini gives them moisture.  From Real Food Forager