On the Real Food News Front – 7/17/14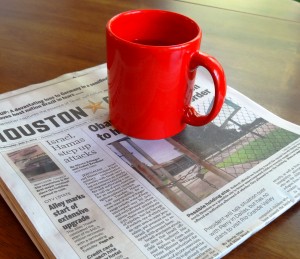 I know it's not still morning, but while reading my newspaper today, I did have a cup of homemade chicken bone broth.  Chicken is my favorite broth, but I have made broths from beef, pork, chicken, duck, and goose bones.  Sometimes I mix the bones.  All are good and nutritious!  Breakfast this morning was a bowl of Nutty Granola with local, organic blueberries and Healthyway Dairy whole raw milk.  Oh sooo delicious!
Recent Real Food Houston posts include a look inside the ingredients in McDonald's French fries plus a delicious new recipe.
An expose on Wired.com about McDonald's restaurants prompted me to look into their French fries.  You may be surprised (maybe not if you are a regular reader) to learn just how they made them taste good after they switched from tasty, healthy beef tallow to vegetable oil in the 90's.  Read more . . .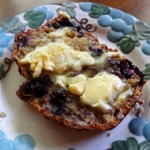 Also, if you like blueberries like I do, you will love my recipe for Blueberry Banana Nut Bread.  The combination of blueberries and banana just really works!
Now for the news . . .
First!  Learn how to ferment foods at a Fermentation Workshop and Demo hosted by The Last Organic Outpost. The co-hosts for the demo are Amy Robison and Ali Miller.  The demo will begin at Noon, Saturday, July 26th.  There is no charge to attend this event.  Read more . . .
The annual Houston Restaurant Weeks is coming up soon.  The 2014 Weeks will begin August 1 and run through September 1.  Local restaurants will feature special prix fixe meals with a portion of the price going to benefit the Houston Food Bank.  To find out which restaurants are participating go to HoustonRestaurantWeeks.com.
The trend to use local produce is a wonderful change that we should encourage.  At least six Houston restaurants are now growing at least some of the food they serve.  If you visit any of these restaurants tell them how much you like what they are doing.  They are Coltivare, Haven, The Grove, Osteria Mazzantini, Patrenella's Italian Restaurant, Rainbow Lodge, and Zelko Bistro.
Do you really want to eat meat preserved this way?  Researchers (notice they are NOT cooks) have developed a new dissolving film to coat meat and protect it from spoilage.  The film is made of "pullulan – an edible, mostly tasteless, transparent polymer produced by the fungus reobasidium pulluns."
This is sad news!  A pesticide in the neonicotinoid family that has been linked to bee colony collapse is now being blamed for a decline in bird populations.  The study published in the journal Nature found a correlation between pesticide concentrations in surface water and decreases in 14 bird species.  How much beauty would the world lose if the birds and butterflies disappeared?
Oh wow! There is such a lot of bad news about statins. It's overwhelming.  When there are so few people who could be helped by taking statins, it is disturbing to learn of even more adverse side effects.  Why oh why do so many people who don't need them take statins? Here are some of the latest findings:
Dallas might just stop adding fluoride to their water supply.  If so, it would be the largest city to remove this toxic industrial waste (usually sourced as a by-product of Chinese aluminum production) from their municipal water.  Apparently Dallas already has a fairly high natural fluoride content in their water at .5 ppm.  Adding more fluoride probably increases the incidence of fluorosis.
Does wearing a bra cause breast cancer? There is some evidence that wearing a tight-fitting bra may be harmful to health. In any case, it's on the safe side to avoid wearing one as much as possible. I've stopped wearing one and wow, it's sooo much more comfortable.
It helps to have nutrition researchers do a step-by-step debunking of common nutrition myths.  This week we have two knowledgeable sources with their top choices for nutrition information.  Authority Nutrition has compiled 15 Things That Everyone Needs to Know About Nutrition.  I especially like # 2, Everywhere The Western Diet Goes, Diseases Follow.  That echoes the research of Dr. Weston A. Price, whom he credits.  Dr. Mercola also has a great article about the Top 10 Destructive Nutrition Lies Ever Told.  Although I'm not sure I agree 100% with all of them (probably not with # 1), I do totally like the rest, including his # 2 nutrition lie–Saturated Fat Causes Heart Disease.  Check out this "Honest Coca Cola Obesity Commercial" video that Dr. Mercola featured.  Real commercials are never this honest, but we might wish they were!
Not all news is bad! Here are some interesting stories on the brighter/lighter side.
An analysis of 323 studies has determined that organic foods are better for you.  They contain more antioxidants and less pesticide residue.  In addition, by buying organic food you support farmers who take better care of the land, and you avoid eating GMOs.  There are many good reasons to buy organic or beyond organic food.
Did you know.that there are easier ways to cut up foods?  Check out these videos that show you a better way to cut up 12 foods, including mangos, tomatoes, and avocados.  I will definitely try some of these.
Hilarious!  Have you seen all those beautiful photos of fancy foods on Pinterest?  Here are 24 attempts (and failures) to recreate those foods.  I'm not recommending eating these foods, but the photos are fun to look at.
Now here is a selection of delicious, nutritious recipes from other Real Food bloggers to help keep you healthy and happy!
Easy Peasy Cheese Crackers If you are looking for a little crunch, try this easy peasy cheese cracker recipe. Only one ingredient–cheese slices.  You won't be disappointed! From Healthy Living How To
Healthy Tomato Soup Recipe With Only 2 Ingredients: Make healthy tomato soup with only two ingredients, diced tomatoes and coconut milk (or heavy cream). Popular condensed tomato soup from a can contains unhealthy stuff like high fructose corn syrup, wheat flour and flavoring. From Healthy Living How To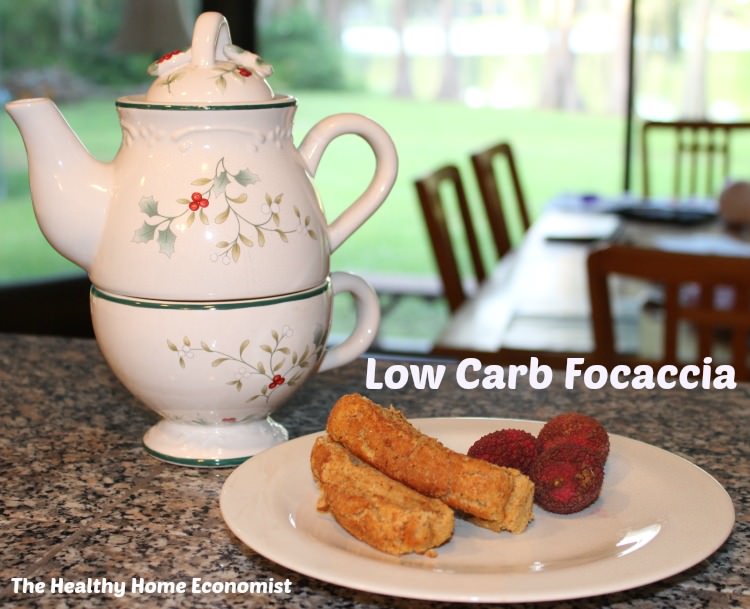 Low Carb Portuguese Focaccia (Gluten-Free or Paleo). This focaccia recipe uses almond flour and sorghum flour and is low-carb and gluten-free.  To be totally grain-free, you can substitute arrowroot powder for the sorghum. From The Healthy Home Economist
Healthy Homemade Nutella If you have every gotten your hands on a jar of Nutella, you know that it does not last long. I start eating it by the spoonful and then it's GAME OVER! But, this delicious indulgence is not very healthy. Even though the advertisements say that it is made from hazelnuts, cocoa and milk….that's not really the case. from Real Food RN
Cheddar Jalapeno Crackers Grain-free crackers with the cheese already baked in, how perfect is that?  And it never hurts to kick up the flavor with a few hot peppers. from The Realistic Nutritionist
CANTONESE EGG CUSTARD WITH MINCED PORK A paleo version of this simple recipe for Cantonese-style savory egg custard with minced pork, asparagus, and mushrooms. from Nom Nom Paleo